Postnatal Depression Treatment Options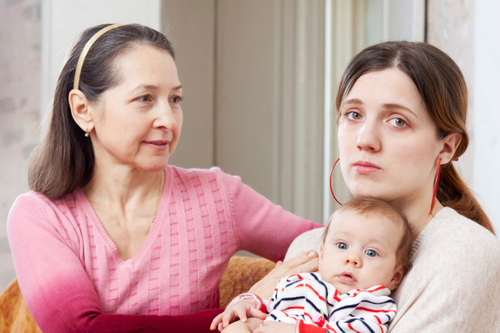 Postpartum or Postnatal depression is a common complication of childbirth. While most women may experience feelings of sadness or melancholy after having a baby, about 10 to 20% of them report experiencing stronger feelings that can be described as a form of depression.
Postpartum depression is a condition that is still not fully understood by the medical community, as it affects women in different ways. Generally however it is characterized by an inability to sleep, combined with feelings of guilt and excessive worrying. Women may also report feeling a loss of enthusiasm for activities, as well as a sensation of feeling overwhelmed. Like other mental disorders, it is hard to pin down the starting point of postpartum depression. Some women may report the onset of their depression within a few weeks of childbirth, while others only realize the extent of their depression after several months.
In this article, we will explore the viability of Transcranial Direct Current Stimulation (tDCS), as a treatment option for mothers experiencing postpartum depression.
What is tDCS?
Transcranial Direct Current Stimulation, or tDCS is a non-invasive, brain-based therapy that uses a weak, direct electric current to change the activity of neurons in the brain. In tDCS sessions, sponge electrodes are positioned on the scalp and held in place by velcro straps. The electrodes then deliver low-intensity direct electric currents over targeted areas of the brain.
This is done in order to excite and affect a change in the 'resting membrane potential' of neurons in the brain. Research has shown that applying positive electrodes during tDCS therapy can increase the excitability of neurons in the brain by up to 40%, while applying negative electrodes can achieve the opposite effect.
Research has shown that tDCS promotes neuroplasticity in the brain. Akin to warming up before a physical activity, patients undergoing therapy for depression have to ready their minds for the different types of techniques that they might encounter. The goal of tDCS is to ultimately help patients become more susceptible to those techniques, by stimulating a change in brain activity on a neuronal level. Studies have shown that changes in a patient's brain activity after a tDCS session can create a "window of opportunity" that can increase the effectiveness of other therapies in the treatment program.
In addition to depression, tDCS can also be an effective treatment option for patients suffering from chronic pain and for patients recovering from stroke and other traumatic brain injuries. Studies have also shown that tDCS can also improve attention, concentration and memory retention levels.
In conclusion: the case for tDCS
Transcranial Direct Current Stimulation should not be confused with Electric Shock Therapy, which uses a more powerful current over a larger area of the brain. Instead, tDCS therapy represents a safe, and non-invasive treatment option for mothers who worry about the side-effects of taking anti-depressant medication. Transcranial Direct Current Stimulation is backed up by twenty years of research and hundreds of peer reviewed studies, and apart from a slight feeling of "pins and needles" underneath the area of the electrodes, tDCS is generally considered a pain-free form of treatment.